A Family-friendly Walking Tour of Baltimore's Inner Harbor
by Laura Kammermeier
I cherish the way my kids glow from the inside out when we travel together and see new things. So after tucking away the kids' final report cards each June, our family heads towards the East Coast to visit family. We scout out new adventures along the way.
This year, marine life was a big theme for our boys (ages 10 and 8), so we decided to build an overnight stay around the National Aquarium in Baltimore, which anchors the bustling Inner Harbor.
The Harbor
Baltimore's Inner Harbor has been one of the major seaports in the US since the 1700s. It started blossoming into the cultural center of Baltimore in the 1970s.
The most striking thing about the harbor is how vibrant and walkable it is. Shops are busy, restaurants are full, and streets are crowded with residents, business people, and tourists at all hours. Music of all kinds echoes from the Harborplace Amphitheatre, street performers amuse passersby, and restaurants lure customers with outdoor seating, hip décor, and spicy aromas.
One night doesn't do the Inner Harbor justice, but we packed as much kid-focused fun into our overnight stay as possible. For us to really "live it up," we selected a waterfront hotel with a swimming pool, spent a morning at the National Aquarium, ate a family dinner at Fogo de Chao, and soaked up some early American history at Fort McHenry National Monument.
Lodging
We stayed at the Baltimore Marriott Waterfront Hotel for two reasons: 1) its location in the center of the harbor ensured we had waterfront views and easy access to other attractions, and 2) it had a swimming pool, which is a must on any kid-friendly vacation.
But the real bonus was getting a corner room on the 30th floor! The kids tumbled into the room, uttering ooh's and ahh's over the flatscreen TV. But when we swung open the blinds, 270-degree views of blue skies and the sun-drenched harbor below blew us all away. We could see nearly everything—the Amphitheater, the Aquarium, Maryland Science Center, American Visionary Art Museum, and harbor taxis criss-crossing the bay. This gave us a birds-eye "I want to go THERE" perspective before we headed out on foot.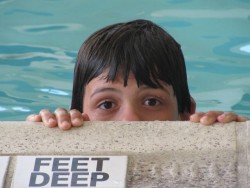 The kids insisted on a quick swim before heading over to the Aquarium. The indoor salt-water pool was large and clean with sliding doors that open to a sunny balcony. The kids didn't like the salt water very much, but they swam anyway.
In addition to a pool and fitness room, the hotel features an upscale martini bar and a waterfront restaurant with American cuisine. A deli is available for quick bites. Our "Double with a Harbor View" room was clean and comfortable. The beds were plush and offered a good night's sleep. At $339 plus $24 in self-parking fees, standard rooms are not cheap, but consider that admission to an awesome view in a luxury hotel in the heart of the Inner Harbor.
The National Aquarium Package, which provides two tickets to the Aquarium, breakfast for two, and self-parking, may be a reasonable family option (rates range from $219 - $329). If you stay here, be sure to ask for a room with a view.
If you go: Baltimore Marriott Waterfront Hotel, 700 Aliceanna Street, Baltimore, Maryland 21202 | 800.228.9290.
Other Baltimore Inner Harbor hotels:
Attractions
Rated the #1 US Aquarium in 2006 by Conde Nast, the National Aquariumpacks riveting marine wildlife exhibits into a fantastic piece of architecture. Attractions include the Dolphin Encounter, rooftop rainforest, a central ray pool, a multi-story shark tank, a 4-D immersion theatre, and a temporary exhibit called Jellies Invasion: Oceans out of Balance. Watching sharks swirl around us at eye level was dramatically disconcerting, and we loved it.
We slowly wound up the five floors of exhibits in the main pavilion. Each floor showcased a theme relating to fish, marine mammals, and even birds, that inhabit various environments: native Maryland, the open ocean, sea cliffs, the Atlantic and Pacific coral reefs, Amazon river forest, and upland tropical rain forests, and more.
The Dolphin Encounter was a highlight. The kids loved seeing dolphins spin balls on their noses, jump high in the air and slam back down, jump through hoops, and spray water on the audience. I loved observing how trainers and dolphins are able to communicate seemingly complex signals.
Aquarium Tips
The Aquarium is great, but it does have three important rules. First, buy your tickets online. It will save you from long wait lines. Second, when they say "we recommend you visit before 11 or after 3," take their advice. We arrived mid-afternoon on a Friday in late June. The crowds were thick and nearly impenetrable inside, which diminished our experience. Three, if you want to get wet during the Dolphin Encounter, get there early and sit in the first seven rows!
If you go: National Aquarium, 501 E. Pratt Street, Baltimore, MD 21202 | 410.576.3800. www.aqua.org. Look into the special dolphin immersion tours for kids, such as the Dolphin Sleepover! Guests enjoy a backstage tour, reserved seating for a dolphin show, say goodnight to the dolphins, then fall asleep in the underwater viewing area! Perfect for special birthdays. Also look for exclusive package deals with nearby hotels.